External battery Rock Odin PowerBank 10000mAh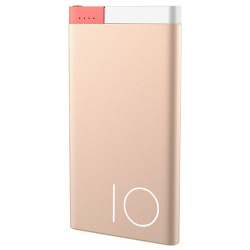 Price: US $ 18.99 Discount
A small review of Rock Odin's 10000mAh power bank.
Purchased at November discounts for a gift and for their own, so indiscriminately.
The main feature of this bank is two input ports for charging, Micro-USB and Lightning.
This means iPhone owners do not have to carry an extra Micro-USB cable with them to charge the bank, but rather confine themselves to the standard Lightning.



Specifications

Box

Box and manual

In the box there is a power bank itself, a micro-usb wire, instructions in English and Chinese.
Dimensions and pictures from different sides Wire length about 40 cm
Additional Information
Tests a bank without the support of fast charging technologies, then the parameters for receiving and returning are standard about 5 volts and 1.6-1.8 amperes.
According to the data of the white doctor, a fully discharged bank to a full charge consumes about 9500 mA / h.
A fully charged power bank until a full charge issues to phones approximately - 6450 mA / h
The most interesting thing in the bank is the Lightning connector, but in the family everyone has androids and there is nothing to check for.
Additional Information
Total normal discount bank for Android owners and an interesting solution for iPhone owners
Because first review, waiting for slippers in the comments)