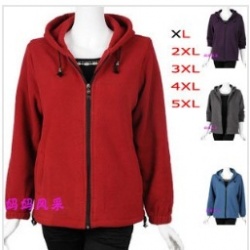 Good day, three parcels came to me, so in order =)
The first will be a fleece jacket with a hood. It was ordered for a more confident conquest of country gardens.
The package arrived in 16 days in St. Petersburg.


No additional packaging, we get out of the package, everything is ok.



Photo on the hostess.


for comparison on a student)


I apologize for the lack of pictures of small parts, did not give such an opportunity =)
In terms of quality, it is specially designed for buzzing, the fleece is plump, only one thread is detected, everything is done carefully. In general, the impression is good, I recommend buying.
The only minus the hood would be worth making more.
Yes, they took 4x, based on the things bought at home, but the jacket turned out to be a bit smaller, and in the process of trying on it changed the hostess.