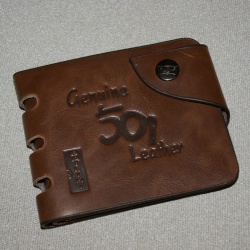 Hello!
My first review of my first purchase on aliexpress.
In short: I recommend.
Due to the fact that Sochi has dark nights, it became necessary to purchase a new wallet.
The selection criteria were leather, price, spaciousness, originality. As a result, I ordered a wallet in the style of the wild west.

1. Delivery.
The order was made on October 5th. I received the parcel on October 25th - not bad at all!


2. Packing.
A box with the Yateer label, although there should be a Balini. Anyway.


Open the box, and there ...
Additional Information

3. Appearance.
We pass to the main thing. With the smell of a haberdashery store, a wallet is extracted from a box from childhood.
Nice looking and touch skin.
Flat stitch without dangling threads.
Wallet size exceeds the size of a thousandth of a bill.
We begin to peer into the details. All visible ends are neatly tucked up, the end of the outer cover is "sealed".
And then our friends distinguished themselves: the material is a three-layer sandwich from the front of the skin, fabric and the inner side of the skin. Cover thicker:
The internal parts are thinner, but the same sandwich:
I can't understand why this is done.
But in general, it's quite worthy. Money is stored, credit cards are placed, worthy foreign visas. For 6 bucks ... I recommend to buy.
And I'm not alone.
Additional Information